As you're stuck inside more than usual during the COVID-19 pandemic, you may be forced to live with things you hate. There are small changes that can have drastic impacts on a room—and you don't need to spend the cost of a full renovation to do them.  Keep reading to discover 6 affordable and simple fixes to make you love your home again!
1. Paint Cabinets for a Fresh, New look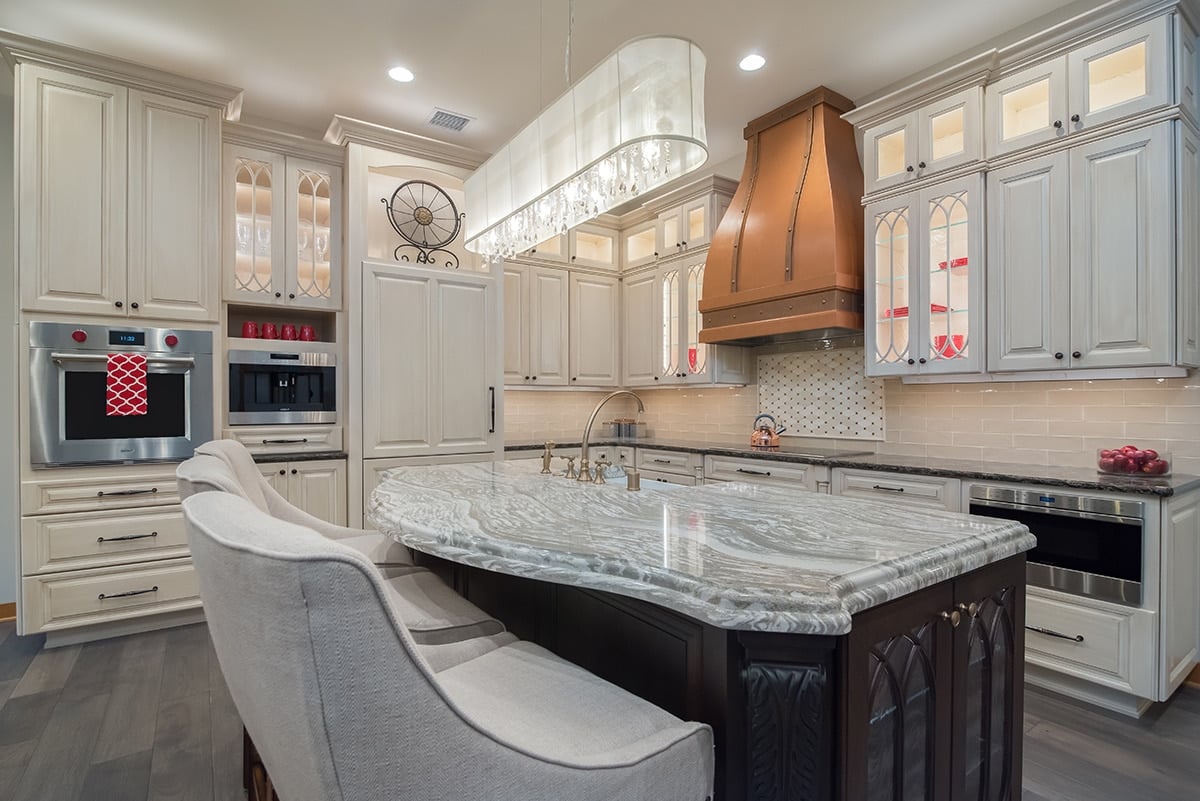 You should be able to enjoy cooking and gathering in your kitchen. Old, drab cabinets should not take away from the best gathering space in the house. Updating your cabinet color completely changes your kitchen and gives it a new, modern look. Painting cabinets can be a tedious task, but can completely transform a room. A company can be hired to do this. However, it is a great project to tackle while stuck at home with plenty of time. In this process, it is important to remember to prime the boxes, door fronts, and drawers before painting. After the primer is dried, it is best to start with an angled brush and mini roller to apply paint. Another layer can be added with a large roller after this. For a final touch, a fine-grit sandpaper and a coat of a satin polycrylic will leave you with durable and beautiful results. With repainted cabinets, your kitchen will have a new clean and finished look. You can look forward to days and nights spent in the kitchen with all of the people you love. 
2. Replace Handles and Door Pulls
Are you looking to modernize your kitchen, but don't want to spend thousands of dollars? Replacing handles and door pulls is a subtle way to modernize and update your kitchen or bathroom. Cabinet hardware is not too expensive and isn't difficult to install either! The first step in the process is to determine the size and type that you currently have. Next, look for your perfect match. Finally, install and watch your room transform! The installation should only need a flathead or phillips screwdriver. Consider changing the handles in your bathroom or bedroom for a fresh update as well!
3. Replace the Countertops
Your kitchen should be a place to cook, gather, and enjoy great food. If you find yourself constantly cleaning with no result or avoiding the kitchen altogether, it may be time to replace the countertops! Quartz is a great option and increases the value of a home, however it is not the only option. Other materials such as marble, soapstone, granite, glass, and laminate have shown amazing results. With many different options, you are sure to create a new kitchen that will encourage you to be the chef or host you've always wanted to be. 
4. Switch Up Your Wall Color
Are you sick of seeing the same, dull color on the walls? Whether it's a fresh coat of paint or a change in color, new paint is sure to change the look of your home! Painting is no major renovation, but provides a gleaming, new look. A fresh coat of paint can do wonders for any room. If you decide to repaint with the same color, consider adding in an accent wall for an extra pop. Another great option is to add wallpaper to your room. Wallpaper comes in hundreds of options that will spice up any room in your home and give it the feel you've always wanted. A new color can change the entire atmosphere of a room.  
5. Change or Add Tile Accents
Do you feel like your kitchen or bathroom is missing that something? Consider adding a tile accent to reimagine the entire room! The tile accent in your kitchen or bathroom can tie the whole room together and give a subtle or statement look. The colors and materials for tiling are endless and can be the unique style that makes your room pop. Glass, porcelain, and ceramic are great options and easy to clean as well. You can get creative with tile, creating an entire accent wall or just tile a section to make an area pop. In addition, if you have a smaller kitchen, a wraparound backsplash can give off the illusion of more space and draw the eye around the kitchen. No matter where the accent is, you will surely love the way it enhances your room!
6. Add New Lighting
Do you hate that dark room in your home? Consider new lighting to make it come to life and even add the illusion of more space. New lighting can come in a variety of affordable ways. Rooms that are lit with bright lighting give off a warm, welcoming, and airy look. Great lighting is the difference between a cramped or open room. There are many different options for new lighting in your house. Small lighting additions such as a floor lamp in a dark corner can completely open up the room. Large-scale lighting additions could include the cost of an electrician. However, updating old light fixtures creates a brand-new modern feel in the entire room. Enjoy your time in a room filled with new energy and light.
The time for a full remodel will come, but while you save or prepare, make these small changes and you're sure to love the results. If you happen to be ready now, schedule a consultation!